Complete guide 2021
Google My Business
Google Maps is one of the first things to work on when you are interested in local SEO.
We leave you with this brief summary guide to optimize everything it offers to the maximum.
Google My Business overview
Increase your ranking on Google Maps
Complete questions and answers beforehand
Reviews, reviews, reviews ...
Google My Business Posts
Local listings
Track your results
Improve your local reach with Google Maps Marketing
Google My Business overview
The first thing is to have a verified Google Maps listing. It is important to comply with these points to avoid any setback in the future.
You are using your legal business name
You have chosen the main category most relevant to your business and have added additional categories (if applicable)
The correct address is displayed (if not a service area business)
The address is hidden if your business is a service area and service areas have been designated
Hours of operation have been added.
Local phone number is being used
The link to the website is correct
Appointment link added (if applicable)
Products have been added (if retailer)
Services have been added (if offering services)
Applicable attributes have been added
Company description has been added.
Opening date has been added.
For most users, their first impression of your business will be your Google My Business listing.
When they do a Google search for your business name, their GMB listing is displayed in the right panel.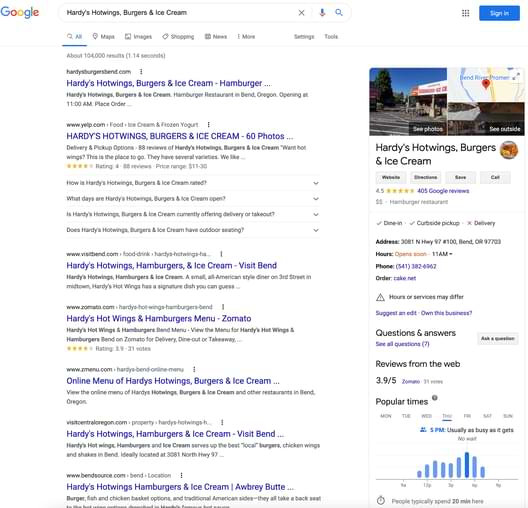 The panel has much more information than the blue links. Google users are likely to interact with the list by reading reviews, checking popular times, and looking at photos and videos.
When you click on the photos, you can scroll to get an idea of ​​what this business has to offer.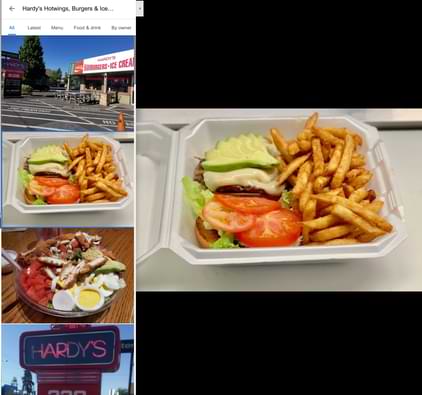 Humans are visual creatures, so for restaurants, this is a surefire way to attract people to their location.
The default view of photos includes photos uploaded by the business owner and Google users.
Google users can add photos directly to the business or they can upload them when they write a review (more on this later).
Google My Business has specific recommendations for the types of photos to add to your list (some types not shown):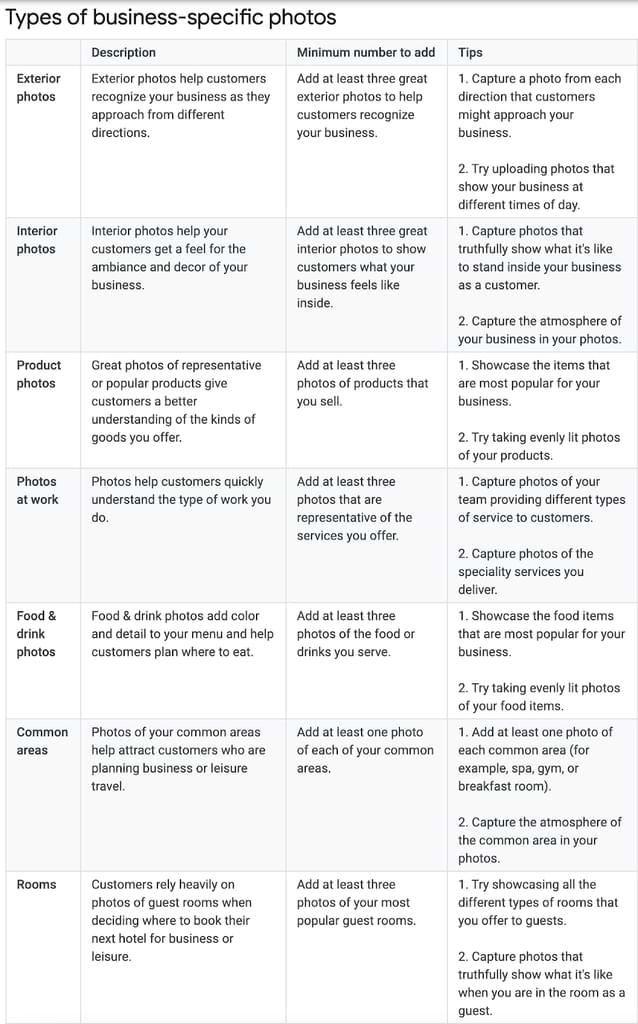 This should represent the bare minimum of what you add to your Google My Business list.
Before you go crazy about adding photos and videos, you should know that there are guidelines for both:
Guidelines for Photographs

Video guidelines

If you work in an industry that is not very visual (insurance, accounting, etc.), you may need to get a little more creative with your photos and videos.
Your photos will have to show more than what it will be like to work with your company. Focus more on providing great pictures of your office, equipment, conference room, interior photos, exterior photos, etc.
Videos can be really helpful in conveying your Unique Selling Proposition (USP). You can also use video testimonials and upload them to your list.
The possibilities are endless if you take the time to think about it.
NEVER use stock photos or videos on your Google My Business listing! Stock photos can create immediate friction between you and potential clients.
If I see a stock photo of a mallet on a desk next to a thick book, I'm going to throw up. We understand, you are a lawyer.
Two photos to add to your Google My Business listing are the logo and the cover photo.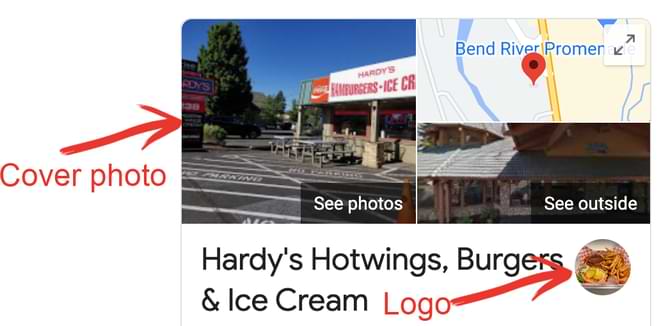 Even if you designate a cover photo, it is not guaranteed to display.
To designate the logo and cover photo from your desktop:
Sign in to your Google My Business listing at google.com/business.
In the navigation pane on the left, click on "Photos."
Look for the "Overview" tab. On the "logo" card, click "Choose photo."
To change the cover photo, click "Choose photo" on the "cover" card.
Your listing is complete, now what?
Increase your ranking on Google Maps
Complete questions and answers beforehand
Users can ask and answer questions about a Google My Business listing. The company can also answer questions.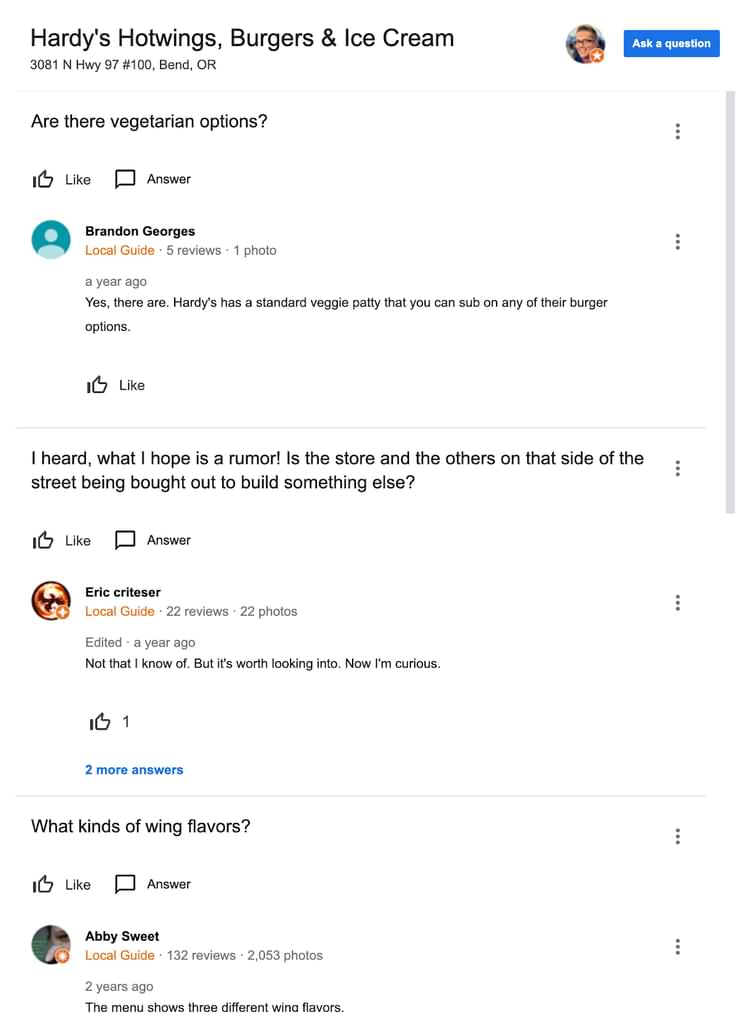 If you go through your listing and see that there are questions that have not been answered, answer them. (Make sure you are logged into the same email address that owns / manages the list.)
If your listing does not have any questions, you must complete them beforehand.
Identify the five most frequently asked questions about your products and services, then, using a separate Gmail account, ask those questions to the list.
For a short period of time, Google My Business displayed the name of the user who asked the questions. Currently, the name of the person asking the question is omitted. It may still be convenient for you to use a separate Gmail account to avoid confusion.
In a separate window, log in to the GMB dashboard from the list, scroll down to "Your business is on Google," and click View in search. Go to the question, then click Answer.
You will see that the company is answering the question. Fill in the answer and post!
Repeat this process until you are done with all the questions.
When you're done, you should get likes on the questions and answers.
If a question gets at least five likes, it will appear in the list panel: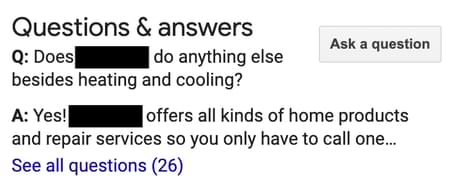 The answer that you like best will also outperform any other answer to the question.
Ask your team to like the questions and answers, and make sure the question you want to display on the dashboard gets the most likes.
Reviews, reviews, reviews ...
We all know that it is important to receive positive reviews on your Google My Business listing.
Here are two main benefits that you probably already know about:
Helps increase rankings on Google Maps
Help in conversions for potential customers.
Review content is also especially helpful for these benefits.
Ratings by themselves do not provide context and are not very reliable.
You need to have a strategy for getting reviews. Here are some helpful resources for implementing a reviewing strategy:
Why Online Reviews Are Important In Your Marketing Strategy
8 rules for effective online reputation management
One thing I want to mention: stop focusing 100% of your review creation strategy on your Google My Business listing.
Yes, it is important to get reviews on your GMB list, but it is not the end.
I like to use examples.
If you're investing money in your retirement, you've likely diversified your portfolio. 100% of your retirement is probably not in a single share. That is very, very risky.
The same strategy should be placed with your review construction efforts. To diversify!
If you need help figuring out which other websites to get reviews on, check out my article on Barnacle SEO.
Google My Business Posts
Google My Business posts were published in June 2017.
There are several types of posts:
COVID-19 update
What's new
Sales
Events
Products
Hours update
Google My Business Help has a pretty good overview of how to do great business posts.
Until recently, certain types of posts (excluding COVID-19 events and updates) were archived after seven days. As of this writing, posts are still viewable even if they are older than seven days.
You can display up to eight Google My Business posts in one dashboard. After the 10th, you need to click on "See All" and a new overlay will appear with a vertical scrolling and will show all the posts from that particular list.
Are there any sorting benefits for posts? It's hard to isolate posts in a vacuum to see if they can improve rankings. If there is a classification benefit, it could be marginal. GMB posts can be beneficial with "Justifications".
Joel Headley has been talking about Justifications for over three years. Justifications are displayed in Google My Business listings to help "justify" why a particular result is a good match for your query.
Here are some examples of justifications:

When I did the search for "uber accident attorney miami," Google pulled up a Google post as a justification.

For the query "Bend oregon oven repair:"
Mountain View Heating, Inc: Justification is being pulled from the website.
Home Heating & Cooling, Inc: The justification comes from one of your GMB reviews.

When I search for "roof repair curve," the justification comes from a service that was added to the list.
Justifications may not help rank, but they can absolutely help to aid conversions.
GMB posts now have the ability to gain additional exposure on Google Maps Explore.
When you open Google Maps on your smartphone, you are automatically on the Explore tab.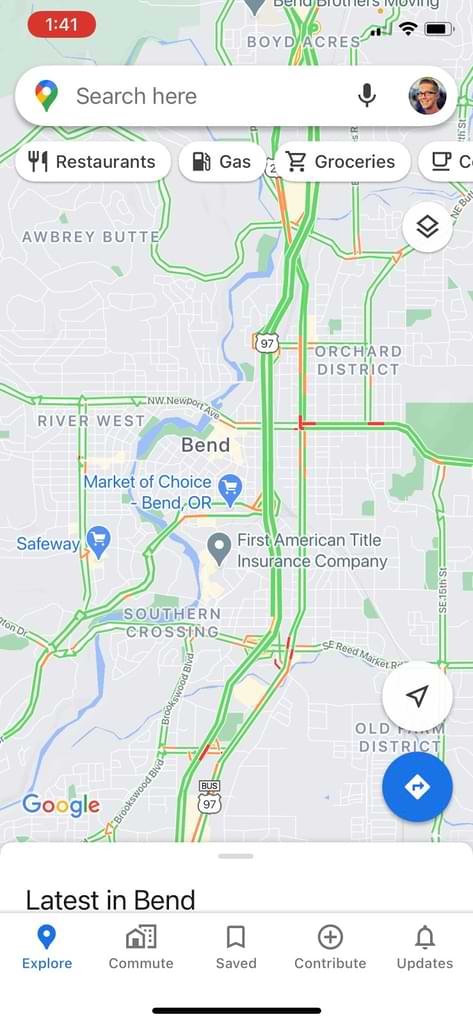 At the bottom of the screenshot, you will see "Latest in Bend." When I open it, I see a combination of Google user reviews of local hiking trails and restaurants. The fifth result is from a local company through a post on their GMB profile: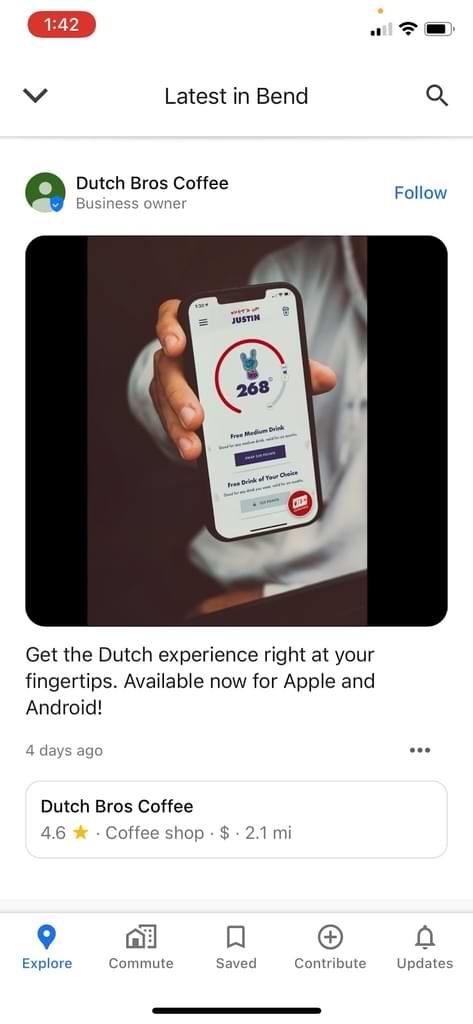 You can directly interact with that post and even follow the business.
Your Google My Business posts have the ability to appear on the Explore tab, so why not take advantage of them?
If you want to increase the likelihood that your posts will appear on Google Maps Explore, your posts must have a visual image.
Local listings
Build all the quotes, they do nothing!
Dating has lost much of its importance over the years, but it is still important.
What doesn't work is creating hundreds of citations and expecting your Google Map ranking to increase dramatically.
Instead, you should focus on the top four data aggregators and tier 1 citation sources that are important to your industry.
Checking and managing listings can be cumbersome, especially if you are a business.
Track your results
Before we get into keyword tracking, it's a very good idea to add a UTM tracking code to your list.
My good friend Claire Carlile wrote a fantastic guide on how to implement UTM tracking for Google My Business. Read it and bookmark it.
Ok, let's talk about ranking tracking for Google My Business.
Traditional ranking tracking is not very effective because proximity is an important ranking factor on Google My Business.
Radio tracking is more accurate to see the performance of your Google My Business list.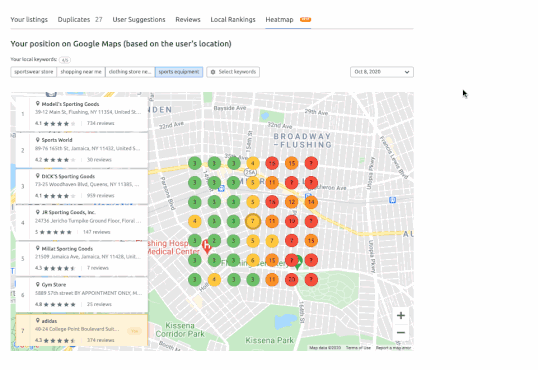 Increasing your ranking further from your physical location is difficult, but not impossible.
The first thing to investigate is whether any of the competitors above you are violating the Google My Business guidelines.
Is the business name your real business name? Is the location real?
Aside from going after listings that violate the guidelines, it's hard to come up with tactics to implement.
Here is a checklist of things you can check by looking at the competitors that outperform you when analyzing radio ratings:
Reviews: freshness, average rating, review speed, keywords used in reviews.
Categories: Is your main category the same as yours? Are they using additional categories that you are not using? GMB Spy is a great extension to show the additional categories that any GMB listing uses.
Website content: Compare the content of your website with that of the competitors that surpass it. Any major difference?
Backlinks - Look at your competitor's backlinks to get an idea of ​​the types of links they are creating.

Improve your local reach with Google Maps Marketing
Optimizing your Google Maps marketing listing is not a one-time deal. You will need to keep updating your list to make sure it is accurate and relevant.
Try to spend a few hours a week answering new questions, answering reviews, and maintaining a carousel of interesting posts.
When in doubt, keep track of your results with the Listing Management tool. Improving your listing will take time and participation - enjoy the process and stay on track.